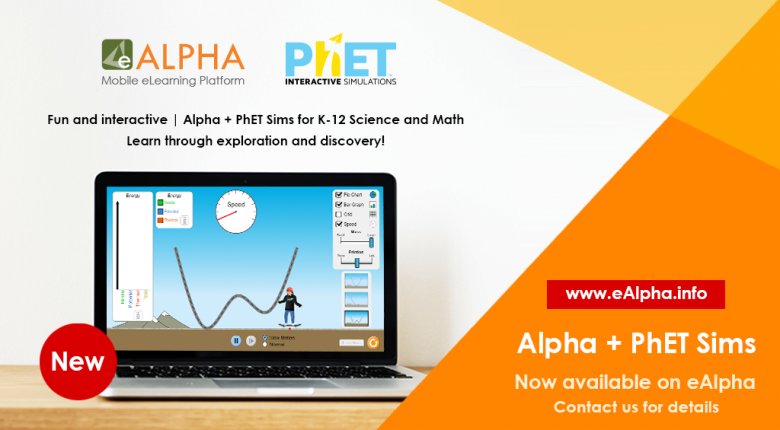 Alpha + PhET Sims – Now available on eAlpha
We are excited to announce new content is now available on eAlpha, Alpha + PhET Sims from the University of Colorado Boulder's PhET Interactive Simulations. PhET Sims are based on extensive education research and engage students through an intuitive environment where they will learn through exploration and discovery.
Alpha + PhET Sims is a collection of simulations, that includes virtual science labs, science models, math games, math puzzles, and more. These simulations are developed by the University of Colorado Boulder and millions of dollars are being spent on research and validation to ensure that each sim meets international learning outcomes and really reaches each student at their level and learning style.
These powerful learning tools reach many of the multiple types of intelligence at the same time:
Visual, through interactive interfaces;
Auditory, through sounds and text-to-speech (in development);
Logical, through real-time collection of data and graphs;
Interpersonal, through answering thoughtful questions we provide alongside simulations;
Intrapersonal, through reflective play and exploration during quiet time.
By integrating Alpha + PhET Sims into class activities, labs, and homework you can make a lesson fun and interactive, sparking imagination and developing a love for science and math. The sims are designed with minimal text so that they can easily be integrated into every aspect of a course.
For students needing ELL support when reading the text in the simulation, we provide full translations in many different languages including Arabic.
For free demonstration access please contact your country representative.