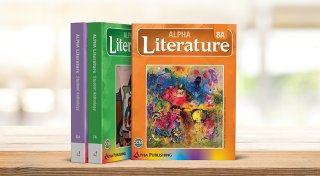 Alpha Literature: Content preview for educators
Alpha Literature, our Integrated English Language Arts program developed specifically for students and teachers in the MENA region provides current pedagogy and instruction in English Language Arts (ELA) with a focus on Literature and Informational Texts. The program follows the Common Core State Standards (CCSS) for English Language Arts and Literacy.
The Literature Selections feature award-winning authors from around the world with a vast array of classic and contemporary literature in a variety of genres, illustrated with visually appealing photography, artworks, and images of fine art.The stand-alone and paired text selections in each unit give students multiple opportunities for in-depth literary analysis.
Follow this link for an exclusive preview of the text selections and reading materials for Grades 6, 11 and 12.