Big Questions
Big Questions is a three-level content area reading series designed for intermediate learners of English. This series aims to have students develop their abilities to read and understand nonfiction text features. As students' reading ability grows, the importance of reading expository texts becomes greater and greater. However, expository texts are more challenging to understand as they include new concepts and content-specific vocabulary.
To have students become familiar with these expository texts in an easier and more interesting way, Big Questions focuses on what our students want to know about certain content area topics: curious questions about science, history, social studies, etc. By reading the given articles and finding the answers to these questions, students will learn how to process information in texts and will develop content area knowledge as well as English language skills.
Key Features
Familiar content area topics that are related to elementary school subjects
Articles with strong content and big questions that make students curious
Prepare to Read section for building background knowledge
Useful and academic vocabulary
Strong visual aids such as pictures, charts, and maps to help students understand nonfiction texts better
Comprehension questions, including reading skill practice
Summarizing and paraphrasing exercises to help students respond to the text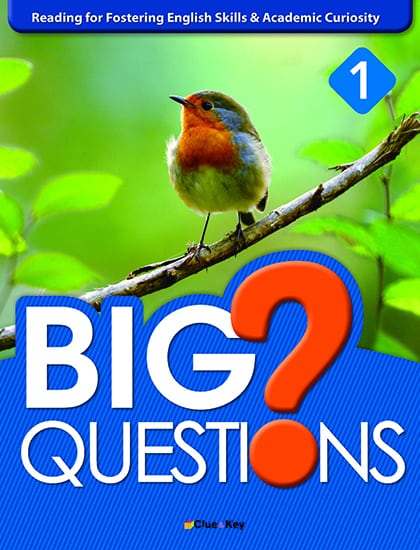 Download
Unit Sample
MP3 Files
Teacher's Guide
Answer Key
Dictation Test
Review Quiz
view full list of components with ISBN Numbers.