British English
Online Reporting
Online Resources
Interactive Content
English Vision is a six-level course aimed at young English language learners. The course is based on the latest CEFR and Cambridge YLE–Preliminary standards with a strong focus on phonics and grammar, along with the skills of reading, writing, speaking and listening. The comprehensive course provides for differentiated learning in the classroom and includes, at its core, vital student criteria such as CLIL, Critical Thinking and 21st Century Skills. Along with an extensive range of project-based learning initiatives, the course provides Social Emotional Learning centred on the concepts of Living Values, Language for Developing Life Skills and Digital Citizenship.
Vocabulary
Skills: Reading, Writing, Speaking, Listening
Grammar
Functions
Phonics
Songs
Sounds and Spelling
Projects
Posters
21st Century Skills
Critical Thinking
CLIL / Cross-Curricular features
Differentiated Learning
Available on eAlpha – LMS
eAlpha connects students and teachers, offering them a collaborative, interactive, and mobile teaming environment that impacts every aspect of education. Features and benefits include:
Easy to use and intuitive eLearning platform.
Allows you to work both online and offline with interactive content on any device.
Access all teacher guides, student books, practice and work books, ancillaries and assessments complete with full interactivity.
Navigate with ease through hyperlinked content pages.
Set assignments easily to whole classes or groups or individuals students.
Effortlessly monitor and report student progress.
Parent guides available.
Student Book
Each module includes:
Module Opener
3 Units
Module Wrap-Up and Projects
Each unit includes:
Vocabulary
Phonics, Sounds and Spelling
Reading with Pre- and Post-Reading activities
Grammar
Listening
Writing
Speaking
Social Emotional Learning
Workbook
The Workbook accompanies the Student's Book and reinforces each unit's target language through a wide variety of engaging activities.
The Workbook contains modules and units using the same easy-to-follow structure as the Student Book.
Includes a wide range of activities such as read, listen and write, unscramble sentences, match sentences, fill in the missing words.
Can be completed in the classroom or as homework.
Teacher's Book
Teaching Guide includes unit-by-unit walkthroughs for all levels which:
Highlight how to teach individual units.
Extend and reinforce the target language.
Extensively signpost between Teaching Guides and individual books.
Explain the standards used.
Assessment
Workbook end of module exam practice introduces learners to the type of tasks they'll encounter in the separate Assessment Book.
Assessment Books for each level containing Entry, Unit, Skills, and Final tests.
Based on the latest CEFR and Cambridge standards.
Flashcards
Illustrate core vocabulary of Levels 1-6.
Used in Teaching Guide activities.
Posters
Levels 1 to 6
5 per level
Interactive teaching aid.
Allow for large group practice.
Allow for target language revision.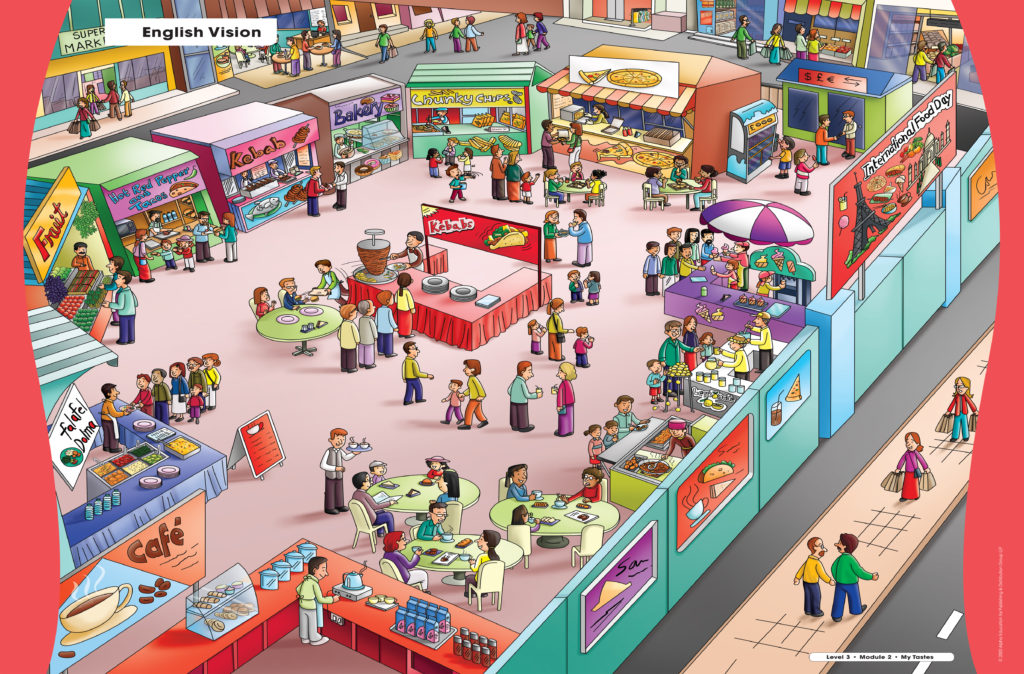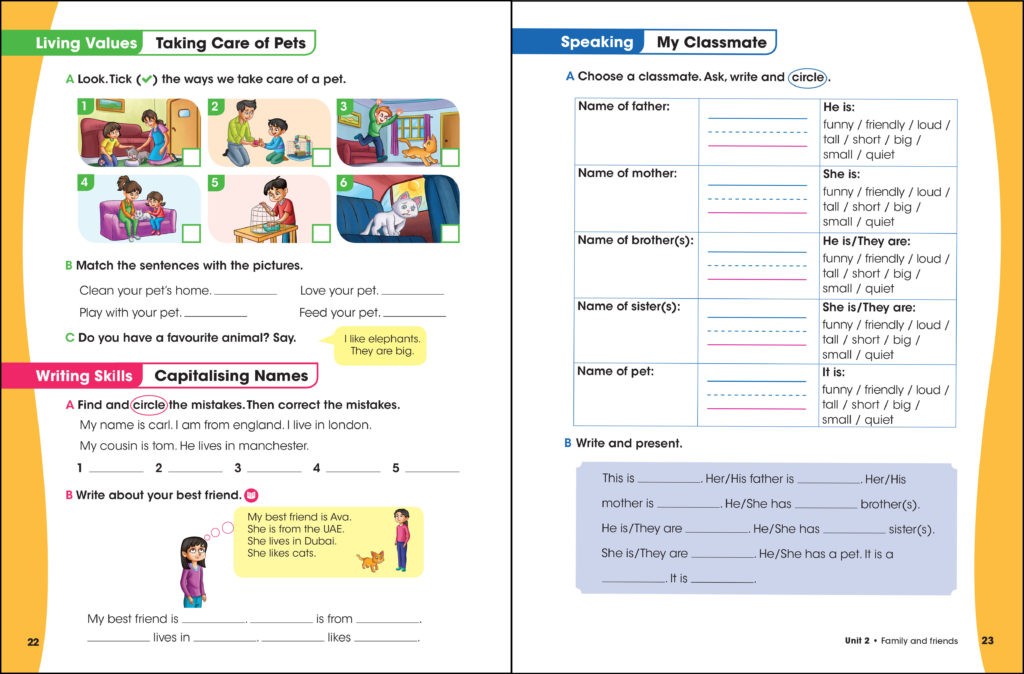 Social-Emotional Learning, leading to:
Awareness of Living Values (Levels 1 to 2)
Language for Developing Life Skills (Levels 3 to 4)
Familiarity with Digital Citizenship – through the section, Living with Technology (Levels 5 to 6)
SEL Skills will help young learners;
Understand and manage their emotions.
Set and achieve positive goals.
Feel and show empathy for others.
Establish and maintain positive relationships.
Make responsible decisions.
Level 1
English Vision – Teacher Resources

English Vision – Teacher Resources – Flashcards

English Vision – Teacher Resources – Posters
Level 2
English Vision – Teacher Resources

English Vision – Teacher Resources – Flashcards

English Vision – Teacher Resources – Posters
Level 3
English Vision – Teacher Resources

English Vision – Teacher Resources – Flashcards

English Vision – Teacher Resources – Posters
Level 4
English Vision – Teacher Resources

English Vision – Teacher Resources – Flashcards

English Vision – Teacher Resources – Posters
Level 5
English Vision – Teacher Resources

English Vision – Teacher Resources – Flashcards

English Vision – Teacher Resources – Posters
Level 6
English Vision – Teacher Resources

English Vision – Teacher Resources – Flashcards

English Vision – Teacher Resources – Posters
| English Vision | 1 | 2 | 3 | 4 | 5 | 6 |
| --- | --- | --- | --- | --- | --- | --- |
| Student's Book + 1 YR Digital Access | 9781785564956 | 9781785564963 | 9781785564970 | 9781785564987 | 9781785564994 | 9781785565007 |
| Teacher's Book + 1 YR Digital Access | 9781785565076 | 9781785565083 | 9781785565090 | 9781785565106 | 9781785565113 | 9781785565120 |
| Workbook + 1 YR Digital Access | 9781785565014 | 9781785565021 | 9781785565038 | 9781785565045 | 9781785565052 | 9781785565069 |
| Assessments + 1 YR Digital Access | 9781785565137 | 9781785565144 | 9781785565151 | 9781785565168 | 9781785565175 | 9781785565182 |
| Flashcards + 1 YR Digital Access | 9781785565199 | 9781785565205 | 9781785565212 | 9781785565229 | 9781785565236 | 9781785565243 |
| Posters + 1 YR Digital Access | 9781785562914 | 9781785562921 | 9781785562938 | 9781785562945 | 9781785562952 | 9781785562969 |