British English
Online Reporting
Online Resources
Interactive Content
Go for English is a progressive six-level English course developed for primary school students learning English as their second language, or as a foreign language.
Go for English has been designed to teach learners through a creative approach, covering the four skills of reading, writing, speaking and listening.
Based on the three levels of the Cambridge Young Learners Test (YLE Test), each book has a wide variety of test questions and answers to prepare learners for the test.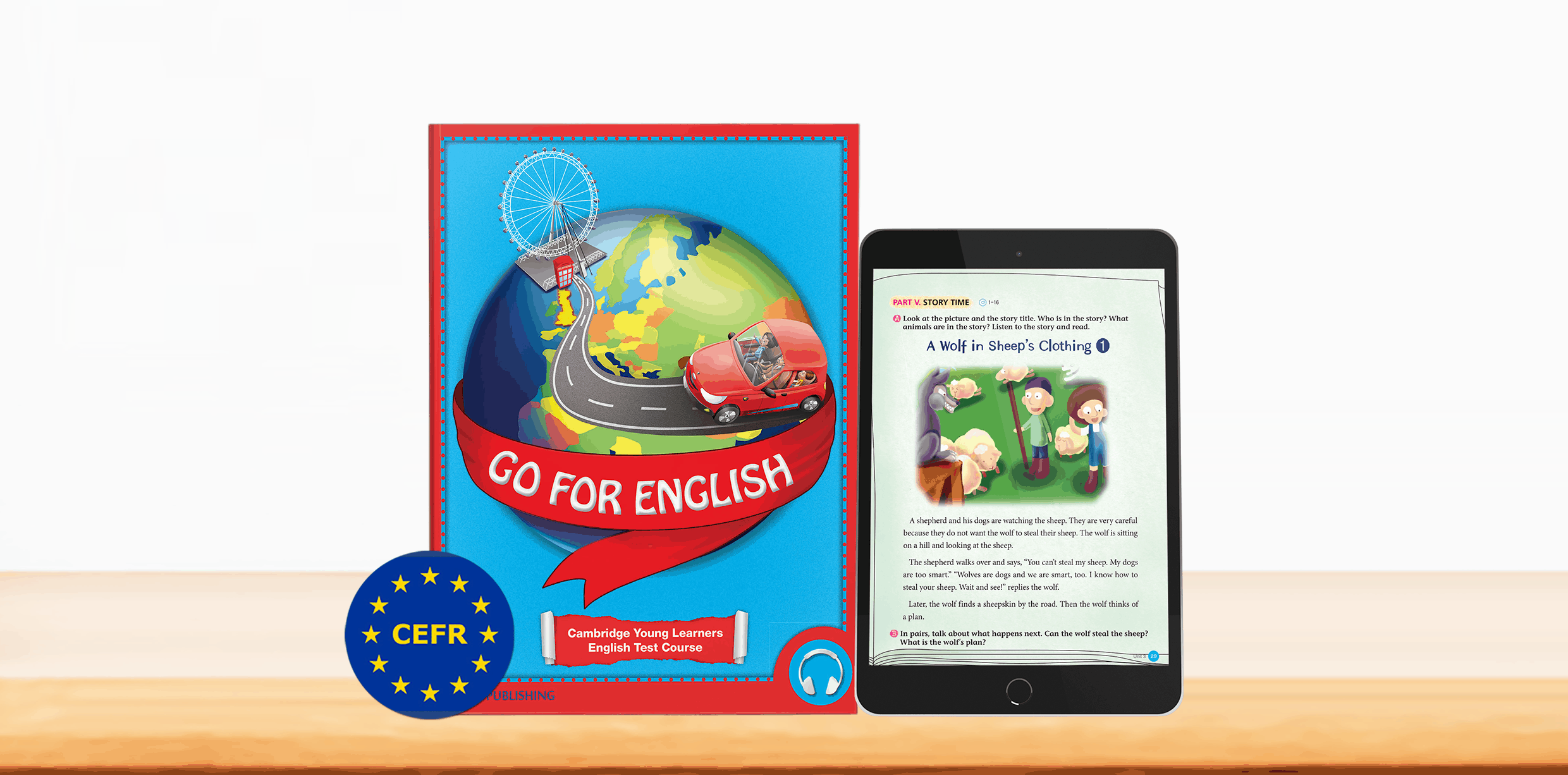 Available on eAlpha – LMS
eAlpha connects students and teachers, offering them a collaborative, interactive, and mobile teaming environment that impacts every aspect of education. Features and benefits include:
Easy to use and intuitive eLearning platform.
Allows you to work both online and offline with interactive content on any device.
Access all teacher guides, student books, practice and work books, ancillaries and assessments complete with full interactivity.
Navigate with ease through hyperlinked content pages.
Set assignments easily to whole classes or groups or individuals students.
Effortlessly monitor and report student progress.
Parent guides available.
Student Book
Look at the main picture and listen to the functional dialogue and keywords.
Practice the key expressions and speaking drill.
Enjoy the chants.
Learn pronunciation through phonics practice.
Listen to the funny story.
Workbook
Within each Student's Book there is a Workbook for practicing writing and listening skills. Students can enjoy a variety of children-centred activities in the workbooks, including;
Listen and write.
Look, match and write.
Choose the correct word.
Read and write.
Teacher's Book
The spiral bound Teacher's Book has been designed to provide teachers with the necessary resources to meet the diverse needs of today's young learners throughout the world.
Lesson support in the form of a lesson introduction outlining the objectives, target words/sentences, target grammar and ideas map.
Suggestions for additional activities and classroom interaction.
Audio
Go for English offers lively and engaging audio material which provides useful listening practice. It guides the learner to a better understanding of the text and can be a stimulus for many oral activities.
Level 1
Go for English (MENA) – Teacher Resources
Go for English (MENA) – Teacher Resources – Ancillaries – Flashcards
Go for English (MENA) – Teacher Resources – Ancillaries – Test & Resources
Go for English (MENA) – Teacher Resources – Audios
Level 2
Go for English (MENA) – Teacher Resources
Go for English (MENA) – Teacher Resources – Ancillaries – Flashcards
Go for English (MENA) – Teacher Resources – Ancillaries – Test & Resources
Go for English (MENA) – Teacher Resources – Audios
Level 3
Go for English (MENA) – Teacher Resources
Go for English (MENA) – Teacher Resources – Ancillaries – Flashcards
Go for English (MENA) – Teacher Resources – Ancillaries – Test & Resources
Go for English (MENA) – Teacher Resources – Audios
Level 4
Go for English (MENA) – Teacher Resources
Go for English (MENA) – Teacher Resources – Ancillaries – Flashcards
Go for English (MENA) – Teacher Resources – Ancillaries – Test & Resources
Go for English (MENA) – Teacher Resources – Audios
Level 5
Go for English (MENA) – Teacher Resources
Go for English (MENA) – Teacher Resources – Ancillaries – Flashcards
Go for English (MENA) – Teacher Resources – Ancillaries – Test & Resources
Go for English (MENA) – Teacher Resources – Audios
Level 6
Go for English (MENA) – Teacher Resources
Go for English (MENA) – Teacher Resources – Ancillaries – Flashcards
Go for English (MENA) – Teacher Resources – Ancillaries – Test & Resources
Go for English (MENA) – Teacher Resources – Audios
| Go for English | 1 | 2 | 3 | 4 | 5 | 6 |
| --- | --- | --- | --- | --- | --- | --- |
| Student's Book + 1 YR Digital Access | 9781785563027 | 9781785563034 | 9781785563041 | 9781785563058 | 9781785563065 | 9781785563072 |
| Teacher's Book + 1 YR Digital Access | 9781785563140 | 9781785563157 | 9781785563164 | 9781785563171 | 9781785563188 | 9781785563195 |
| Workbook + 1 YR Digital Access | 9781785563089 | 9781785563096 | 9781785563102 | 9781785563119 | 9781785564126 | 9781785563133 |
| Flashcards + 1 YR Digital Access | 9781785564147 | 9781785564154 | 9781785564055 | 9781785564062 | 9781785564161 | 9781785564178 |