New Plus Phonics
New Plus Phonics is an easy and fun three-book phonics series developed for high-beginners. This series introduces higher-level phonics and blending skills naturally through music, songs, words, and interesting stories. This series provides fun ways for children to interact with each other while offering explicit support for developing phonological awareness. Every element is designed for children to practice decoding skills and develop the 4 skills together.
Key Features
Comprehensive program designed to improve spelling, reading, listening, and writing
Easy and fun to teach with lots of songs, chants, stories, and activities
Stories that present various phonemic patterns through wonderful full-color illustrations using highfrequency vocabulary
Funny and engaging cartoon stories to review the entire units
Assessment tests every 3 units for partial check-up and 1 final test for covering all units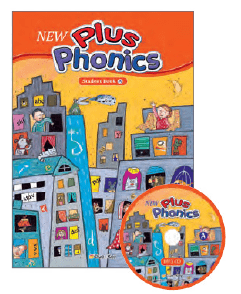 Download
Unit Sample
MP3 Files
Teacher's Guide
Answer Key
Test
Flashcards
view full list of components with ISBN Numbers.