Reading Issues
Reading Issues is a series designed for learners at the high-intermediate level to complete high-quality reading activities for critical-thinking skills. Most of the reading passages and questions in this series involve the use of deductive reasoning, logical inference, and sequential analysis. These materials are highly effective and applicable for learners as they cover contemporary interesting topics which stimulate their curiosity. This series also provides learners with the opportunity to achieve higher level of literacy while expanding their general knowledge.
Key Features
A broad range of topics: mysteries, people, science, culture, politics, etc.
A variety of genres: horror, detective stories, biographies, magazine articles, etc.
Comprehensive exercises, such as word study, main idea and details, inferential questions, and note-taking
More activities including finding grammatical errors and contextual analysis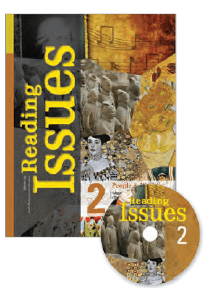 Download
Unit Sample
MP3 Files
Teacher's Guide
Answer Key
Lesson Plan
Test
view full list of components with ISBN Numbers.