Super English – Phonics KSA
Super English Phonics KSA
British English
Online Reporting
Online Resources
Interactive Content
Super English Phonics KSA is a five-level phonics series specially written for children aged 5 to 8 in the Kingdom of Saudi Arabia. Each unit presents six high-frequency words to illustrate the relationship between letters and sounds. A variety of fun activities, chants, and stories will ensure your learners love phonics.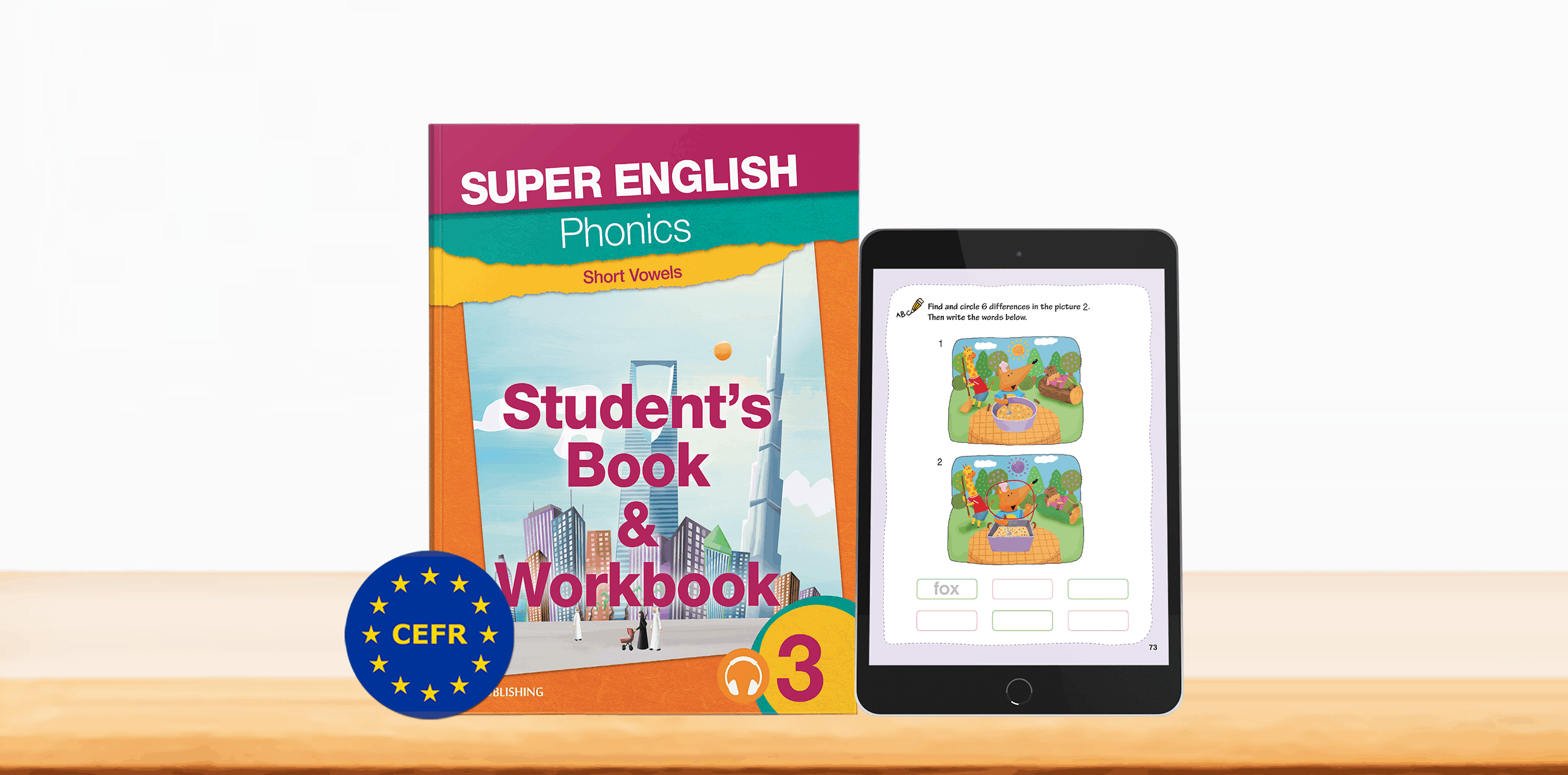 Key Features
Fun, age-appropriate activities: matching, circling, colouring, etc.
Short, easy-to-remember chants in every unit.
Stories to review the words in a meaningful context.
Checkup page in every unit with a progress test.
Review pages with additional listening and writing activities.
Writing-based Workbooks to review words and stories.
Available on eAlpha – LMS
eAlpha connects students and teachers, offering them a collaborative, interactive, and mobile teaming environment that impacts every aspect of education. Features and benefits include:
Easy to use and intuitive eLearning platform.
Allows you to work both online and offline with interactive content on any device.
Access all teacher guides, student books, practice and work books, ancillaries and assessments complete with full interactivity.
Navigate with ease through hyperlinked content pages.
Set assignments easily to whole classes or groups or individuals students.
Effortlessly monitor and report student progress.
Parent guides available.
Level 1
Super English Phonics – Teacher Resources
Level 2
Super English Phonics – Teacher Resources
Level 3
Super English Phonics – Teacher Resources
Level 4
Super English Phonics – Teacher Resources
Level 5
Super English Phonics – Teacher Resources
Super English Phonics KSA

1

2

3

4

5

Student's Book & Workbook Combined
+ 1 YR Digital Access
9781785565908
9781785565915
9781785565922
9781785565939
9781785565946
Teacher's Online  Downloadable Resource + 1 YR Digital Access
9781785565953
9781785565960
9781785565977
9781785565984
9781785565991