Super English – Speaking and Listening KSA
Super English  – Speaking & Listening KSA
British English
Online Reporting
Online Resources
Interactive Content
Super English Speaking & Listening is a seven-level course specially designed for young learners of English in the Kingdom of Saudi Arabia, from starter to elementary ability. It has been developed to help learners dramatically improve both their speaking and listening skills. Students are introduced to basic sentences, vocabulary, and everyday questions that are essential for young English speakers.
Super English Speaking & Listening will allow all English learners to become more confident not only in their test taking skills, but also in their English communication skills.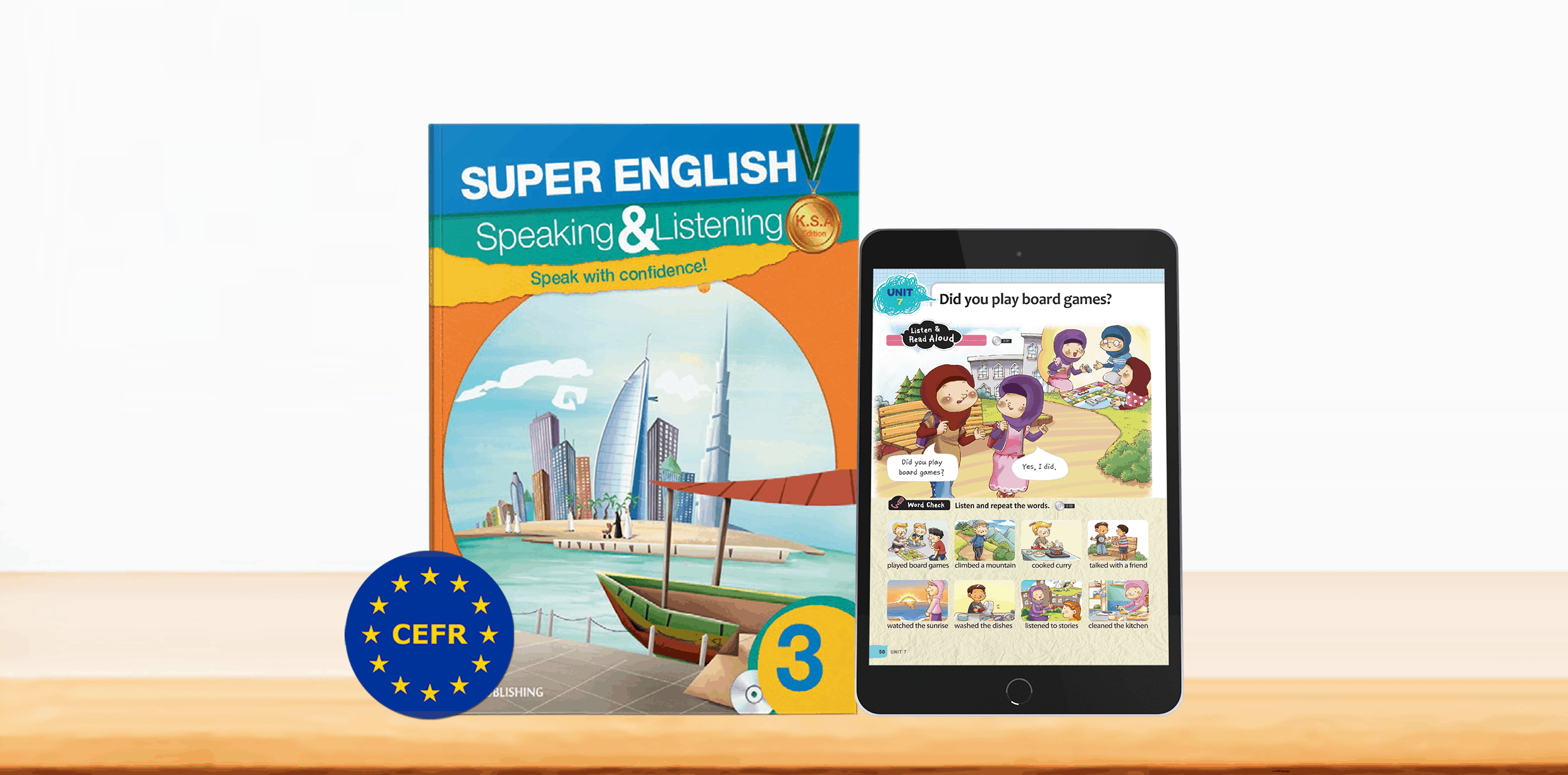 Key Features
Basic conversation patterns and essential vocabulary.
Photos and illustrations to help students' understanding.
12 Trial Tests, 4 Review Tests and a Final Test for check up.
A Workbook that enhances vocabulary, pronunciation and writing.
An audio programme that provides a reading of the Student's Book, as well as the listening materials for the tests.
Available on eAlpha – LMS
eAlpha connects students and teachers, offering them a collaborative, interactive, and mobile teaming environment that impacts every aspect of education. Features and benefits include:
Easy to use and intuitive eLearning platform.
Allows you to work both online and offline with interactive content on any device.
Access all teacher guides, student books, practice and work books, ancillaries and assessments complete with full interactivity.
Navigate with ease through hyperlinked content pages.
Set assignments easily to whole classes or groups or individuals students.
Effortlessly monitor and report student progress.
Parent guides available.
Student's Book
Series scope and curriculum outlined for easy reference.
Divided into units with clear How to Use guides.
Every lesson contains a short dialogue and quiz.
Repetition, wrap-up practice and trial tests used throughout.
Insight into the cultures of English-speaking countries.
Workbook
The Workbook provides listening and dictation exercises that will strengthen students' listening and writing skills.
Contains easy-to-follow units using the same organisation as the Student's Book.
Includes: write the meaning, listen and write, and unscramble exercises.
Can be completed in the classroom or as homework.
Extra listening material in the Student's Book audio.
Teacher's Book
The spiral bound Teacher's Book has been designed to provide teachers with the necessary resources to meet the diverse needs of today's young learners throughout the world.
Lesson support in the form of a lesson introduction, outlining the aim, target sentences, target vocabulary, potential difficulties and teaching aids.
Listen and Read Aloud guide.
Level 1
Super English Speaking and Listening (KSA) – Teacher Resources
Level 2
Super English Speaking and Listening (KSA) – Teacher Resources
Level 3
Super English Speaking and Listening (KSA) – Teacher Resources
Level 4
Super English Speaking and Listening (KSA) – Teacher Resources
Level 5
Super English Speaking and Listening (KSA) – Teacher Resources
Level 6
Super English Speaking and Listening (KSA) – Teacher Resources
| Super English – Speaking & Listening KSA | Starter | 1 | 2 | 3 | 4 | 5 | 6 |
| --- | --- | --- | --- | --- | --- | --- | --- |
| Student's Book + 1 YR Digital Access | 9781785561252 | 9781785561269 | 9781785561276 | 9781785561283 | 9781785561290 | 9781785561306 | 9781785561313 |
| Teacher's Book + 1 YR Digital Access | | 9781785561399 | 9781785561405 | 9781785561412 | 9781785561429 | 9781785561436 | 9781785561443 |
| Workbook + 1 YR Digital Access | 9781785561320 | 9781785561337 | 9781785561344 | 9781785561351 | 9781785561368 | 9781785561375 | 9781785561382 |
| Flashcards + 1 YR Digital Access | | 9781785561627 | 9781785561634 | 9781785561641 | | | |