American English
Video Clips
Online Reporting
Online Resources
Interactive Content
Audio (Text to Speech)
Alpha Literature provides up-to-date pedagogy and instruction in English Language Arts (ELA) with a focus on Literature and Informational Texts. The program follows the Common Core State Standards (CCSS) for English Language Arts and Literacy.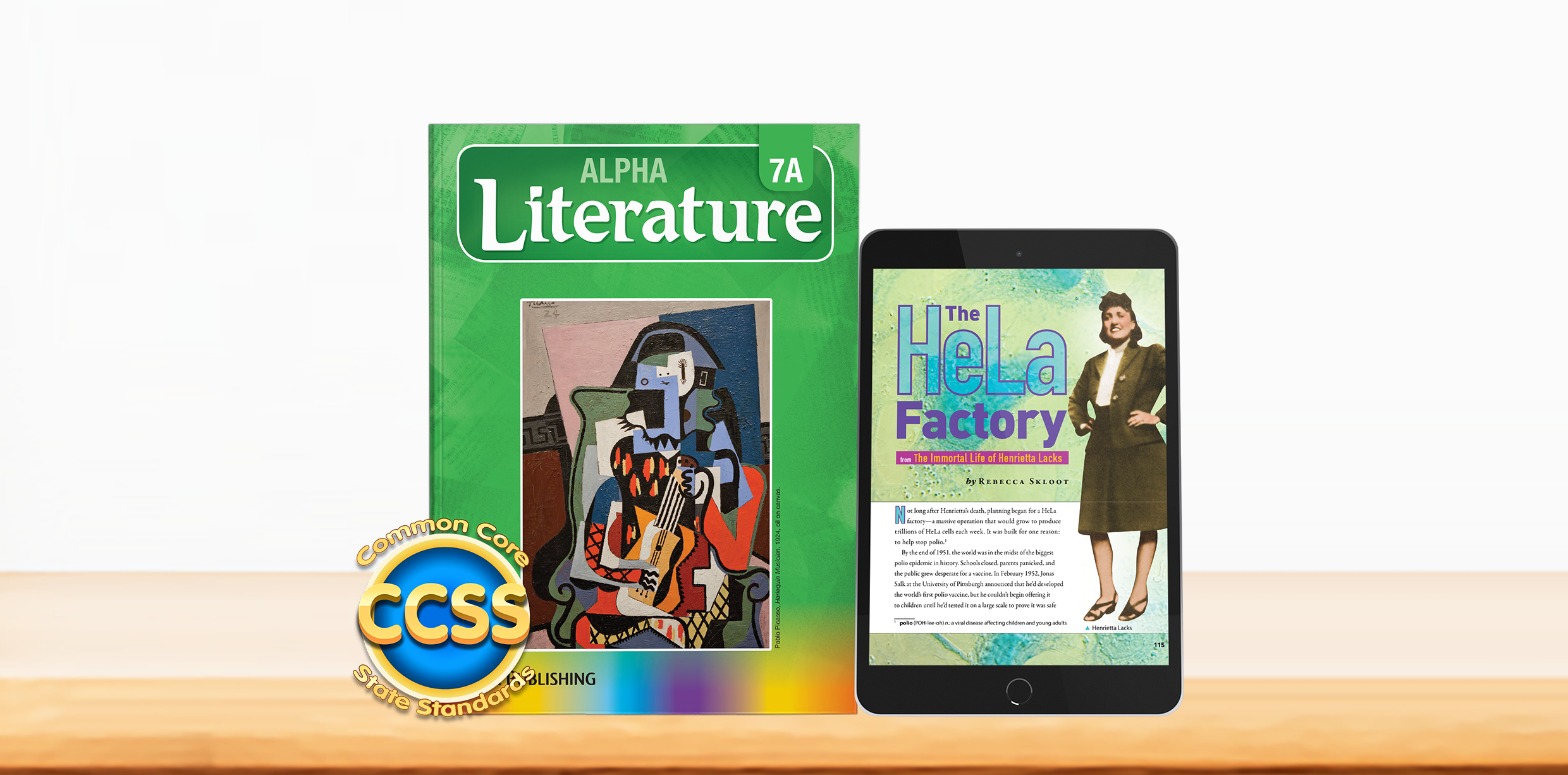 Key Features
Globally focused, featuring multi-genre classics and contemporary literature with regional references
Fully aligned with the Common Core State Standards
Comprehensive skills instruction and practice in Reading, Writing, Language Comprehension (Vocabulary and Grammar), and Speaking and Listening
Teacher Guide with pacing guidelines, innovative teaching tips, and strategies for differentiated instruction
Each grade level includes six multi-genre units, with an engaging theme and a thought-provoking Essential Question
Beautiful fine art and illustrations pair perfectly with the text
ExamView assessment generator for creating, assigning, and scoring tests, quizzes, and more
Available on eAlpha – LMS
eAlpha connects students and teachers, offering them a collaborative, interactive, and mobile teaming environment that impacts every aspect of education. Features and benefits include:
Easy to use and intuitive eLearning platform
Allows you to work both online and offline with interactive content on any device
Access all teacher guides, student books, practice and work books, ancillaries and assessments complete with full interactivity
Navigate with ease through hyperlinked content pages
Set assignments easily to whole classes or groups or individuals students
Effortlessly monitor and report student progress
Sentence by sentence highlighting
Parent guides available
Learnosity
Alpha Assessments Powered by Learnosity
Now live on eAlpha our LMS. This new addition to our K-12 programs includes 1000s of engaging, interactive assessments across English Language Arts (ELA), Math, and Science.
Key Features
Aligned to both US Standards and Alpha Publishing Programs
Available for Grade 1 onwards for English Language Arts (ELA), Math and Science
Flexibility in assigning different activity depending on student/class needs
Detailed How to Use Teacher Guides
Activities rescale on devices of different screen sizes
Coordinate, line and statistical graphing tools
Assess benchmarks – Beginning year to End of year
Quizzes, tests and so much more
Student Anthology
The Literature Selections feature award-winning authors from around the world with a vast array of classic and contemporary literature in a variety of generes, illustrated with visually appealing photography, illustration, and images of fine art. The stand-alone and paired text selection in each unit give students multiple opportunities for in-depth literary analysis.
Featured in every selection:
Background Close Reading Focus Close Reading Questions to support literary analysis
Critical Viewing Questions
Discussion activities that extend beyond the literature
Critical Reading question bank, which presents higher-order-thinking questions requiring students to go beyond basic recall and comprehension to analyze, interpret, and evaluate the literature
Award-Winning and Best-Selling Titles
Award-winners:
The Breadwinner by Deborah Ellis
Words in the Dust by Trent Reedy
Damascus Nights by Rafik Schami
A Long Walk to Water by Linda Sue Park
I am Malala by malala Yousafzai
Born on a Blue Day by Daniel Tammel
Cinder by Melissa Meyer
The Bad Beginning (A Series of Unfortunate Events, Book 1) Lemony Snicket
The Joy Luck Club by Amy Tan
Cleopatra: A Life by Stacy Schiff
Into Thin Air by John Krakauer
The Martian by Andy Weir
The Boy Who Harnessed the Wind by William Kamkwamba
The Immortal Life of Henrietta Lacks by Rebecca Skloot
Literary Companion
The Alpha Literature Literary Companion was designed to provide complete coverage of the Common Core State Standards at each grade level. Instructions and practices are presented in an easy-to-consume, intuitive format that includes graphic organizers, charts, outlines, and other tools that help students prepare and organize their work.
The Literary Companion provides integrated ELA skills support for every selection in the Student Anthology by featuring comprehensive skills instruction and preactice for Reading, Writing, Vocabulary, Grammer, and Speaking and Listening. It also includes comprehensive instructions for the Perfomance Task in every unit.
Teacher Guide
The Alpha Literature Teacher Guide has been designed to provide teachers with the necessary resources to meet the diverse needs of today's young learners throughout the world.
The Alpha Literature Teacher Guide provides an overview of each unit and includes Learning Targets, Pacing Guides, and Teaching Tips. It gives comprehensive support for every selection in the Student Anthology and the lessons in the Literary Companion.
It includes teacher scripts, tips for English Language Learners, Differentiated Instruction notes, Learning Targets, Pacing and Lesson Plans, and Rubrics for assessing the unit Performance Tasks.
Assessments
On eAlpha, downloadable and editable assessments are provided that align to Alpha Literature's content and the CCSS for ELA for each unit, there is a comprehensive Unit Test and Quizzes for all selections that assess student's understanding of the reading, vocabulary, language, and writing skills covered in their Student Anthologies and Literary Companions.
Grade 6
Grade 7
Grade 8
Grade 9
Grade 10
Grade 11
Grade 12
[popup_trigger id="1245″ tag="button"]Request Sample[/popup_trigger]
Alpha Literature
Grade 6
Grade 7
Grade 8
Grade 9
Grade 10
Grade 11
Grade 12
Student Anthology – Vol. A + 1YR Digital Access
9781785567988
9781785568800
9781785568879
9781785568947
9781785568985
9781785569029
9781785569067
Student Anthology – Vol. B + 1YR Digital Access  Access
9781785567995
9781785568817
9781785568886
9781785566905
9781785566868
9781785566820
9781785566783
Literary Companion Practice Book Vol. A + 1 YR

Digital Access

9781785568701
9781785568824
9781785568893
9781785568954
9781785568992
9781785569036
9781785569074
Literary Companion Practice Book Vol. B + 1 YR

Digital Access

9781785568763
9781785568831
9781785568909
9781785566912
9781785566873
9781785566837
9781785566790
Literary Companion Practice Book – Vol. A – Answer

Key + 1 YR Digital Access

9781785568770
9781785568848
9781785568916
9781785568961
9781785569005
9781785569043
9781785569081
Literary Companion Practice Book – Vol. B – Answer

Key + 1 YR Digital Access

9781785568787
9781785568855
9781785568923
9781785566929
9781785566882
9781785566844
9781785566806
Teacher Guide + Vol. A + 1 YR Digital Access
9781785568794
9781785568862
9781785568930
9781785568978
9781785569012
9781785569050
9781785569098
Teacher Guide + Vol. B + 1 YR Digital Access
9781785566943
9781785566950
9781785566967
9781785566936
9781785566899
9781785566851
9781785566813
Assessment Digital Access
–
–
–
–
–
–
–