Alpha K English Language Arts (ELA)
The Alpha K ELA Program understands the importance of engaging children with the art of reading and setting them up for a lifelong love of literature. Alpha K ELA follows a carefully integrated, multimodal approach for introducing language art skills and guiding students toward acquiring mastery of reading, writing, and speaking the English language.
Program Highlights: 
Children will acquire the foundational skills of reading and begin to understand the relationship between written and spoken language. They will learn how sounds & phonics relate; how blending those components will create words and how those words form sentences.
Key Features:
Fully aligned with the Common Core State Standards.
Beautifully illustrated with fun and educational activities.
Promotes cross-curricular learning and integrated reading instruction.
Phonological awareness and vocabulary building exercises in each chapter.
Age-appropriate instructions and engaging content.
Step-by-step, scaffolded teacher instructions.
CCSS codes for easy reference to the standards covered.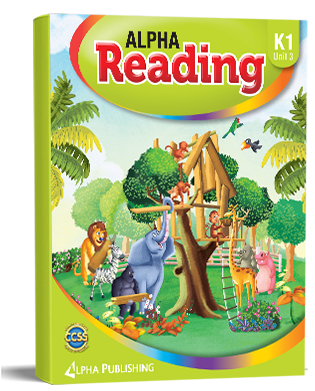 Student Book
Sidekick (Practice Book)
Teacher Guide
Flash Cards
view full list of components with ISBN Numbers.