Alpha English Language Arts
Alpha Reading G1-5
Alpha Reading G1-5 is a comprehensive program designed to provide solid foundational skills while inspiring young students to develop a lifelong joy of reading. The program is fully aligned with Common Core State Standards and proven Reading/Language Arts instructional methods within a structure that provides ease of use for teachers, fun and engaging material and a high level of interest for students.
Incorporating both contemporary and time-tested literature, along with brand-new high-interest selections, Alpha Reading 1-5 offers an array of opportunities for engaging and informing readers.  The use of authentic literature supports students' cultural awareness and promotes instruction across the curriculum.
Program Highlights: 
The Alpha Kindergarten Reading Program for KG1 and KG2 understands the importance of engaging children with the art of reading and setting them up for a lifelong love of literature. Alpha Kindergarten Reading follows a carefully integrated, multimodal approach for introducing language art skills and guiding students towards acquiring mastery of the English language.
Children will acquire the foundational skills of reading and begin to understand the relationship between written and spoken language. They will learn how sounds & phonics relate; how blending those components will create words and how those words form sentences.
Key Features:
Features Original selections as well as well-known literature.
Vocabulary, word usage, and writing skills in everyday and literary context.
Decodable readers, phonics, phonemic and phonological awareness at grades 1 and 2.
Detailed Teacher Guide with pacing guide and lesson plans.
Provides support for learners of varying backgrounds and learning styles.
Sample test for standardized test prep.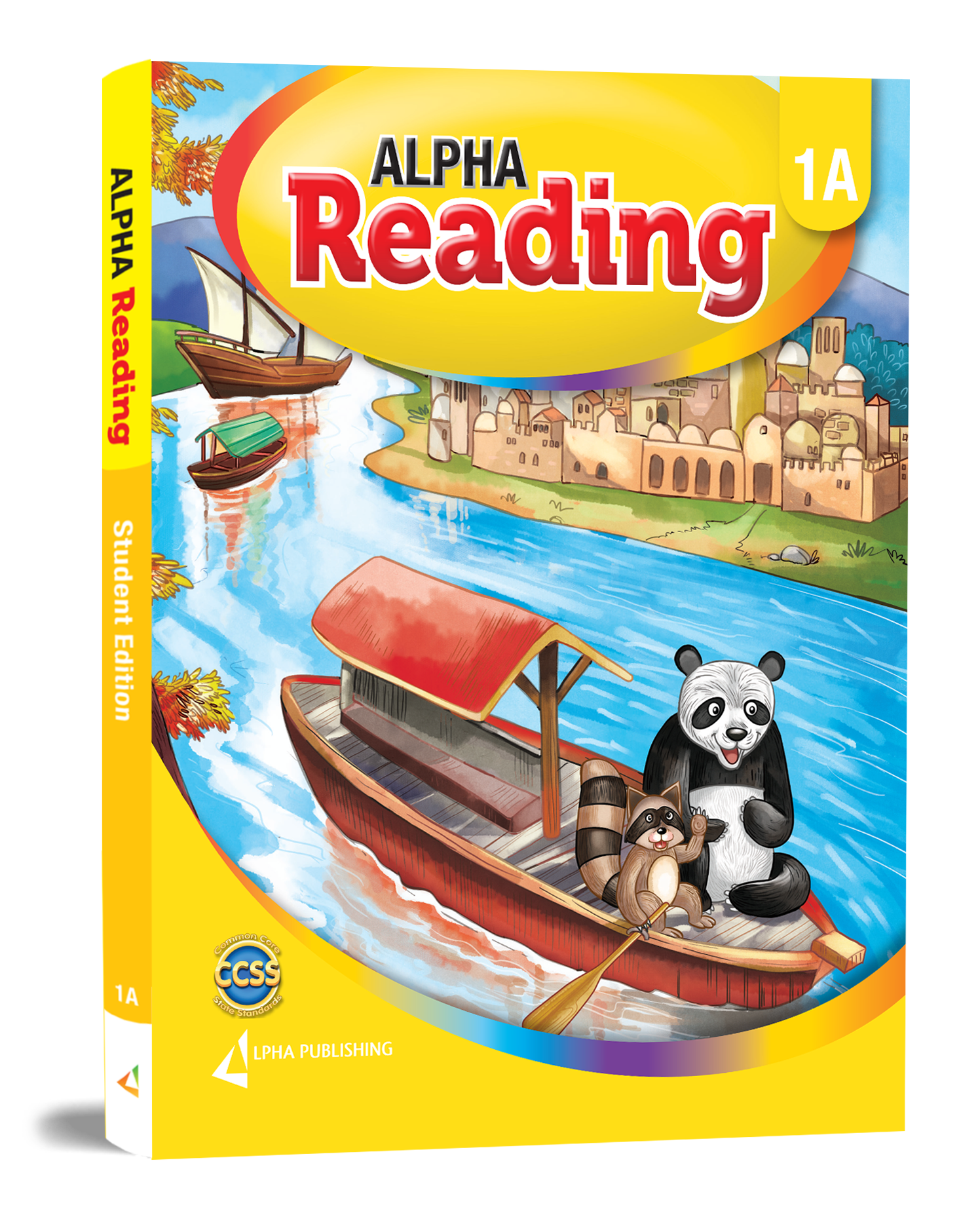 Student Anthology
Each grade level has three volumes divided into three Units, containing three paired selections. Selections are either authentic, official titles or original passages, with a blend of fiction and nonfiction.Each paired selection includes Grade-appropriate vocabulary and discussion questions.
Sidekick
The Sidekick, 3 Volumes per Grade, supports the Anthology with targeted instruction in a student-facing, consumable format. Sidekick selections align with Common Core State Standard objectives, allowing teachers to identify and address key skill: Comprehension, Phonics (at Grades 1 & 2), Craft and Structure, Vocabulary, Language Development, and Writing skills.
Teacher Guide
At a glance, this "roadmap" offers educators and instructors all the support and additional classroom instruction they need to teach the ALPHA Reading program successfully.It provides the Answers and Answer Key for all ANTHOLOGY discussion questions and all SIDEKICK activities. As well as extra instruction and support for vocabulary, reading comprehension, ELL, differentiated instruction, writing, close reading, and multisensory classroom activities.
Test Prep Book
Helps students practice all the skills and CCSS standards associated with critical thinking, and instruction in Reading/ English Language Arts that they have learned and practiced in the SIDEKICK.Written in a format that mirrors Measures of Academic Progress (MAP) standardized test- all of the skills and standards covered in each Unit of the ANTHOLOGY and SIDEKICK are included in this handy booklet.Two practice tests per Unit are provided, allowing educators to assess students' progress and target areas for which individuals need additional instruction, support, and practice.The assessment pages are perforated and easily reproducible.
view full list of components with ISBN Numbers.