The Superkids Reading Program
The Superkids Reading Program captivates students from the start with tales of the Superkids. These relatable characters and their ongoing adventures provide an engaging and cohesive framework for literacy success.
Superkids is a comprehensive English language arts curriculum crafted for grades K-2 using evidence-based literacy practices and supported by a dedicated literacy team. This proven-effective program follows a unique, systematic, and explicit instructional path through engaging, increasingly complex text.
Growing and learning with the Superkids by their side, students develop the K-2 literacy skills they need to be successful in grade 3 and beyond.
Key Features
This core literacy curriculum teaches all aspects of reading seamlessly integrated with the language arts.
Explicit, step-by-step lessons build skills systematically as children progress through the program.
The Superkids characters engage and motivate children with their unique personalities and interests.
Skills Exercised
Phonemic awareness and phonics
Reading (comprehension, fluency, etc.)
English language arts (spelling, handwriting, grammar, and composition)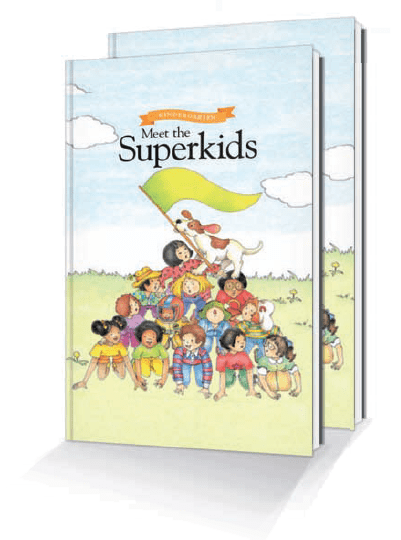 Kindergarten
18 Student Books
24 Informational Text Read-Alouds(for whiteboard use)
43 Library Books
Online Games
Interactive Books
First Grade
2 Readers, 10 Student Books
20 Informational Mini-Magazines
68 Library Books
Online Games
Interactive Books
Second Grade
2 Readers, 2 Word Work Books
8 Informational Magazines
16 Authentic Fiction Books
16 Book Talk Journals
Interactive Books
view full list of components with ISBN Numbers.