Alpha Science Grades 1-8
Alpha Science has 4 volumes each based on one of four NGSS domains: Science, Engineering & Technology; Life Science; Earth & Space Science; Physical Science. Teachers can select the order in which they teach the domains. Each NGSS domain has its color-coded volume with vibrant visuals. Each lesson contains three practices that move from the Directed Practice (teacher guided) to the Guided Practice (a bit more student driven) to the Full Practice (fully student-driven learning). At the end of each lesson, students will have a deep understanding of the lesson's objective and content.
Developed based on the Next Generation Science Standards.
Write-in student book.
Leveled science practices are embedded throughtout the book.
The questions encourage students to use different levels and types of thinking.
The lessons are developed using the 5Es instructional model.
Achieve the connections with the ELA and math CCSS.
Connecting science with the real world.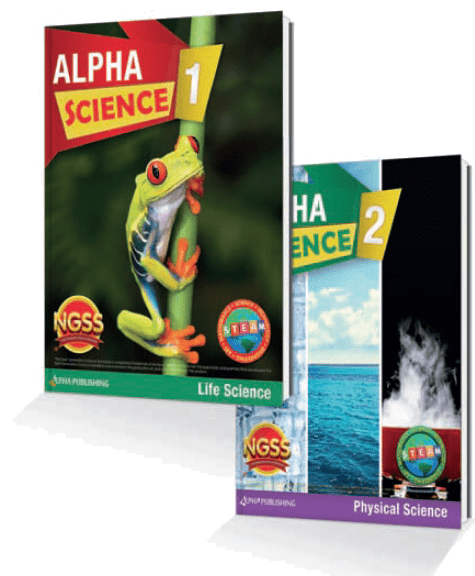 Student Edition + 1 yr Digital Access
Practice Book
Teacher's Edition + 1 yr Digital Access
Multiple Intelligence Activitities
Anchor Activities
Exit Cards
Assessment Book
Interactive Games
view full list of components with ISBN Numbers.