Word Wisdom is an effective, research-based program that introduces, teaches, practices, and applies vocabulary strategies through the context of reading passages. The program's vocabulary instruction
increases reading fluency and comprehension.
strengthens reading and writing across subject areas..
leads to improved overall academic success.
Students are taught how to use context clues, Latin and Greek roots, and reference tools to unlock the meaning of words in theme-based reading passages. They then interact with and use the words multiple times as they practice and apply the 5-Step Process for unlocking meaning.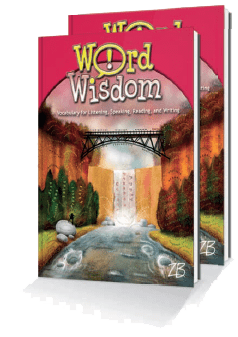 Student Edition provides lessons for an entire year to help students unlock, process, and apply over 300 new vocabulary words.
Teacher Edition provides annotated Student Edition pages, weekly and daily instructional planners, assessment blackline masters, and a correlation to the CCSS. Includes a CD-ROM with printable games and activities.
Classroom Poster displays the nine Context Clues Strategies. One side is for Grades 3–5; the reverse is for Grades 6–8. 22" x 33".
view full list of components with ISBN Numbers.